Volume 2: Issue 4: April 2002
Welcome to the April 2002 update of wailers.co.uk. Each month we plan to bring you news and opinions of the Wailers and associated affairs, with regular contributors offering articles and reports from around the world.
MARLEY COMPILATIONS REMASTERED
The next releases in the Bob Marley & the Wailers remastered series will hit the shops on May 21st.
The four albums are all posthumous compilations, and come complete with original artwork, liner notes and bonus tracks. Legend was re-issued in a deluxe 2 CD edition in February, is now available in a single disc remaster, with the bonus tracks Easy Skanking and Punky Reggae Party. Rebel Music was originally released in 1986, and showed a more politically driven Marley than heard on most of the previous Legend album. Alongside classic studio tracks such as Slave Driver and Rat Race, the collection also offered two cuts from Marley's live albums, War/No More Trouble from 1978's Babylon By Bus, and Get Up Stand Up from the 1975 Lyceum album. The re-issue features the bonus track Wake Up And Live (parts 1 & 2)
The 1991 album Talkin' Blues was a compiled from a 1973 US performance at the Record Plant, Sausalitio for KSAN FM, alongside interview snippets and other out-takes. Only 7 of the 10 tracks performed at the Record Plant were used the first time around, so Lively Up Yourself, Stop That Train and Bend Down Low are appearing for the first time as bonus tracks on the new issue.
The final album in the new batch is the Natural Mystic compilation. Released in 1995 and subtitled The Legend Lives On, the collection features the remix hits Iron Lion Zion and Keep On Moving alongside album favourites such as Sun Is Shining and One Drop. The remaster will feature the additional track Positive Vibration.
Thanks to Sean Roper.
---
FAR EAST & DOWN UNDER
23 years ago this month, Bob Marley and the Wailers visited Japan, New Zealand and Australia on an early leg of their 1979 World Tour.
The Japanese tour began at the Shinjuku Kouseinenkin Hall on April 5th, and ran through until April 13th. On their arrival the band were given new instruments by Japanese giant Yamaha, and Bob appeared for the encore of the first gig proudly sporting his new Yamaha rhythm guitar. Bob was also presented with a Yamaha tie, and members of the Wailers received sweatshirts. The inner sleeve for the Japanese issue of Survival contains photos of Junior Marvin in his Yamaha shirt.
Rita Marley: "Japan was memorable. We had a lot of press there saying how well they thought it would be doing there in ten years time. How it would be taking over Japan.They loved Bob and Bob played a big part in their absorbing reggae as they have done."
(Songs Of Freedom, Adrian Boot & Chris Salewicz, Bloomsbury)
Promotional duties taken care of, the band put in some amazing performances in Japan. The crowds proved how the music crossed the cultural barrier by singing along in perfect English . The first show began with a long version of Positive Vibration, and was followed by a slow, brooding version of Concrete Jungle. The setlist made no compromises to the new territory; heavy versions of Them Belly Full, The Heathen and Running Away/Crazy Baldhead were received as enthusiatically as No Woman No Cry and Jamming. The first show encore began with a solid rendition of the War/No More Trouble medley, which Bob took straight into Get Up Stand Up with an extended instrumental first verse, and then a stunning version of Exodus.
A repeat performance at the same venue the next day was followed by two performances on April 7th at Tokyo's Shibuya Public Hall, after which the band took a two day rest period.
On April 10th Bob and the Wailers played two shows at the Nakano Sun Plaza Hall that featured some of the most interesting renditions of songs on the whole tour. Bob threw in several improvisations and scats throughout, including a surprise segue from Stir It Up into War at one show that momentarily catches the Wailers off guard. Another interesting improvisation that the band developed over these shows was the brief reprise at the end of I Shot The Sherrif that was executed to best effect at the Sun Plaza.
To conclude, the tour moved from Tokyo to Osaka. The penultimate show was at the Kouseinenkin Hall on April 11th, and finished up on the 13th at the Festival Hall.
"Our message to the people is that Rastafari is the Almighty. And this time the minds come together and defend one thing, so we can have a whole world unity instead of so many divisions all over."
Bob Marley, Japan, April 1979.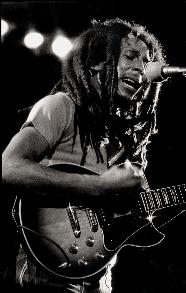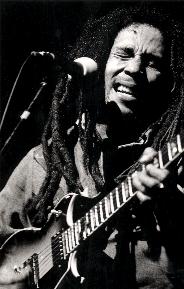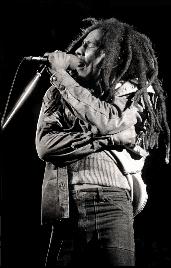 A collection of stunning photos taken in Japan by Mitsuhiro Sugawara can be obtained from the following link. The prints come highly recommended, and feature some of the best shots of Bob we have seen:
http://rockjazz.com/sugawara/bob21/index2.htm
After the Japanese comittments were completed, Bob and the band set off to New Zealand for a one off gig on route to Australia. On arrival Bob was given the traditional Maori welcome, usually reserved for heads of state.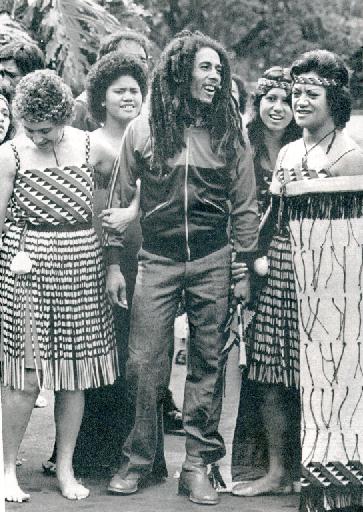 The New Zealand gig took place at Western Springs, Auckland, on April 16th, and was the basis for the fascinating documentry film Come A Long Way, titled after Bob's opening words at the show.
The opening of the film begins with the quote "Marley's dreadlocked image is one of the more potent in black music today", somewhat understating Bob's standing in the music industry as a whole. The documentry also features interesting tour bus footage and an interview with Bob's late manager Don Taylor, who recounts the fateful night of the Hope Road shootings in 1976.
The 8 dates of the Australian tour began in Brisbane on April 18th, moved to Adelaide for two shows at the Apollo Stadium on the 20th and 21st, stopped off in Perth for a gig at the Entertainment Center on the 23rd before arriving in Melbourne.
Two engagments were fulfilled at the Melbourne Festival Hall on the 25th and 26th before a detour to Sydney for a show at the Hordern Pavillion the following day, then it was back to Melbourne for the last date of the tour on the 1st of May 1979.
The setlists for the shows consisted of a strong selection of live favourites similar in format to much of the previous years Kaya tour, but tracks such as Easy Skanking and Punky Reggae Party were dispensed with from these intense shows. Interestingly on at least two ocassions, in Perth and at the first Melbourne show, Crazy Baldhead came before Running Away in the medley, a reversal of the usual format.
On completion of the Australian bookings, Bob and the Wailers flew to Hawaii for two shows before returning to Jamaica to prepare for the Survival tour.
BOB MARLEY INTERVIEW, BRISBANE, AUSTRALIA 18th APRIL 1979
Interviewer: In your music, you talk a lot about sex, politic, religion and ganja. Do you come into very much strife, very much pressure from the government about your attitude towards herb?
Bob: Well, my attitude you see can't get no pressure. Is only the police if you really foolish.
Interviewer: Peter Tosh had a lot of trouble last year from the authorities in Jamaica because he was advocating ganja very publicly, he was physically hurt. He was beat up I understand and he was in a lot of trouble. Is that true?
Bob: Yeah it was true, he had a problem with them.
Interviewer: Was he hurt badly?
Bob: Yeah, them hurt him.
Interviewer 2: The thing is you've come under a fair amount of pressure too. You even managed to get yourself shot at at some stage.
Bob: Yeah, you find people wicked some places. Really wicked.
Interviewer: So you don't fear for your personal safety in any situation, say, in Jamaica?
Bob: My safety is secure y'know. You see, words good but you have to have action! Any man can come out and run up him mouth and blah, blah, boom, boom. But we want to see the works. That mean, you might find one who a big and who aggresive, because him don't go through the danger that I go through. The amount of thing that I go through I can take it cool, because me been through it. When you figure you taking it cool, you taking it cool through the fire. It's not outside the fire you're taking it cool, it's in a the fire. You can not give away your life on ego, then all you was was a bag of argument and then you die. You have to have some action, then that mean it can have some meaning.
Interviewer: You say that when you smoke ganja, your conscience comes in front of your eyes. The stories and publicity say that you smoke one ounce of ganja per day. Is that true?
Bob: One ounce?
Interviewer: One ounce. It's a lot. What's the truth?
Bob: Sometimes smoke a good amount of herb if we want, and sometimes we don't smoke.
Interviewer: It's not nescessary that you take everyday, because this is what we've been told?
Bob: If you don't have it you don't have it, beacuse it's not everytime you have the right one . The right one you can't smoke a ounce of that!
Interviewer: Do you have a herbsman that comes with you to try your herbs before you do? Is this another publicity lie?
Bob: Try my herb? No man, no one try my herb.
Interviewer 2: Is smoking the herb an important part of your life, or is it just something you do for pleasure?
Bob: Smoking herb is freedom. If you want to be free, smoke herb.
Interviewer 2: How does it give you freedom?
Bob: Try it! (laughs)
Interviewer: Bob can we go back to politics? You're a very political man, so this is why I ask the question...
Bob: I would be glad if I was a political man.
Interviewer: You don't think you are?
Bob: No.
Interviewer 2: Could you ever see yourself becoming a political leader?
Bob: I don't see myself as a politician. I see myself as defending the right of His Majesty. I am a soldier in His Majesty army.
Interviewer 2: How did you feel when Haile Selassie died?
Bob: How did I feel when Haile Selassie live!
Interviewer 2: Wasn't he killed?
Bob: No. God cannot die. It's God! I mean when we say is God, it don't really mean we take a man like God. If him was not God we wouldn't say that because we are wise people. It is not true what they're saying, we don't bow to nothing. Because the gift of God is life. Him have to be a true and living God. To me a true and living God is the truth.
Interviewer: Where is the place in the bible that urges people to smoke ganja for Rastafarianism?
Bob: In the bible, God create man ...in Genesis you can find it. Plenty other places in the bible.
Interviewer: Bob, do you have a prediction for yourself and for reggae music in closing?
Bob: Well, I predict that I should never have a prediction! (laughs) But the things is I can't really predict a thing. We are saying that this is the generation that seek God. What we are saying is that... if I would be a hypocrite, I'll predict this thing, beacuse this is what have to happen. All the people on the pace of the Earth will know who Rastafari is through music. And is reggae music.
BOB MARLEY INTERVIEW, BOZ & ELDER, AUSTRALIA, APRIL 1979

Bob: Yeah, how you doing? This is Bob Marley on two double J.
Interviewer: He's a lot happier this time than he was last time! Why are you so happy this time?
Bob: Yeah because, now me brethren's very nice now and we getting things together. Last time was the gunshot on my mind.
Interviewer: Ah, right. Yeah, you're a lot more peaceful. A lot more relaxed.
Bob: Yeah, more dangerous now.
Interviewer: Now one thing I mustn't forget. You've just received a platinum album from Australia. Does that surprise you that you'd get a platinum album from Australia?
Bob: Yeah, because up 'til now I don't know what it represent.
Interviewer: Well it represents I think sales of about 50, 000 copies of that particular album.
Bob: Oh. In Australia that's good.
Interviewer: Yeah, I think that's very good. Does that surprise you?
Bob: Well, yeah. Really don't expect that of Australia. That's good.
Interviewer: Do you know much about Australia?
Bob: Well, the only thing I heard about Australia is that the Queen send these guys out because she couldn't manage them. And the Aborigines.
Interviewer: Yeah. But other than that Australia's a bit of a blank?
Bob: All I know is Ritchie Benaud. When I used to listen to cricket, Ritchie Benaud was one of the great off-spinners.
Interviewer:I mean, Ritchie Benaud hasn't played for a long time.
Bob: Well, yeah. I remember the days when Ritchie Benaud from .
Interviewer: You seem to be less interested in politics now.
Bob: Well, I'm always interested in my people's right. But I will not push myself to a revolution without arms.
Interviewer: As far as people like yourself are concerned, you mentioned to me last time that you're very concerned about what's going on in South Africa, and what's going on in Rhodesia. Is there anything do you think that people in Jamaica can do to help their brothers in Rhodesia and in South Africa? Anything directly?
Bob: Well, we can do what we have to do. But we look at South Africa and the pressure that we face, and the struggle that we go through, we kow that the world must change. And the black people in South Africa is the greatest black people on the face of the Earth. Because they are capable to fight. We are not capable to fight, we are in chains. Now we are talking about people who are fighting for their rights.
Now, the world, this Earth doesn't have no justice. Because what we are saying is what could we do in Jamaica as we are a people? His Majesty say that until the colour of a man skin is of no more significance to the colour of his eyes. That mean that justice is in the eyes of everyone. The black people and the white people. That mean, if the black people in Jamaica could do anything to help South Africa, then the white people anywhere could do the same. Because until a an skin is of no more significance to the colour of his eyes.
Interviewer: So, it's as much my responsibility...?
Bob: It is (as) much your responsibility as mine!
Interviewer: Now, what about Is This Love?
Bob: Well, after saying all these things you must really have some time when you take a cup of tea! So you say I wanna love you and treat you right, because you fighting for something. You got your enemy, and you got your people. The things you tell your enemy, you got to tell your people a different thing. You tell them I wanna love you and treat you right, we'll be together everyday and every night. Don't worry about a thing, everything is gonna be alright. Just keep on fighting with I.
Interviewer: It's a love song. A happy song.
Bob: Well, it is one of them songs where words couldn't express the meaning, so we had to just put words to the melody! (laughs)
Interviewer: That's the best quote of the year! "It's one of those songs where the words couldn't express the meaning, so they just had to put words to the melody." (laughs)
Bob: You have deal with the people. You have to give what the people want, and then you have to give them what you know they're supposed to get.
Interviewer: Do you think that now, you're far removed from working in the Chrysler factory, does it conjur up memories, do you think you can still relate to those people who are in fact living in the concerete jungle now?
Bob: Oh, yeah man. I live with them in the concrete jungle, nothing has changed for me. I am just the same, nothing has changed for me.
Interviewer: In what way? If you look at it, you're much more successful, you're playing large concerts...
Bob: I'll tell you what. I have the same feelings. I am a Rastaman. Everything remain the same. I carry that same feeling. I didn't expect this world to be so crooked and corrupted. I thought people were people. Until I grew up and realised this guy hate me for nothing. When I check he hate me through history. He hate me because I'm black. He hate me because I live uptown, he hate me because I'm from the ghetto, he hate me because I'm from the country. Is just hatred run the Earth until Rastafari come and say "no! Peace and love is the way of life." Rasta is the only man preach peace and love. Because if the church preach peace and love, then them would a love Rastaman.
Interviewer: Do you think that theres any possibilty ever of the human race believing in peace and love?
Bob: No, no, not the human race. You have people who qualified to deal with peace and love. You have people who are qualified and searching for the people with their qualifications too . And they will meet.
Interviewer: What happens to the ones who can't love?
Bob: Well, I'm sorry for those who do not know what love is because love is all love is God. And if you can't love then you don't know about that.
---
BUNNY STILL AN ENIGMA ?
Bunny Wailer celebrated his 55th birthday on 10th April, yet the master musician and sole surviving member of reggae music's greatest triumvirate still remains something of a mystery man.
From the same humble beginnings that were the backdrop to Bob Marley's childhood, Bunny rose along with his best friend to become one of the country's main musical players.
In the early days at Studio One however, Bunny was happy to take a backseat to Bob and to a lesser extent Peter, yet he possesd the finest voice of the three. Bunny's finely pitched soulful voice would have been the perfect replacement when another early Wailer, the original lead singer, Junior Braithwaite departed the group, yet it was Bob who stepped forward as the leader of the group. It was not until Marley took a sabbatical from the band in 1966 that Bunny moved into the limelight with the hits Dancing Shoes and Who Feels It Knows It.
Little of real substance has been written about Bunny over the years, and now it would seem that the highly anticipated book Old Fire Sticks, by Wailers experts Roger Steffens and Leroy Jodie Pierson, may never appear.
In an open letter to www.niceup.com Steffens explained how work on the book had frustratingly drawn to a standstill. Having spent 9 years working on the project, conducting and transcribing 64 hours of interviews that that filled 1, 800 pages, the authors gave Bunny three completed chapters to review in September 1998.
Since that time, according to Steffens, Bunny has not read the work. Having chosen to collaborate on the book with it's subject, Roger and Leroy cannot proceed any further until Bunny gives the green light. It's a sad situation, and whatever Bunny's reasons are for stalling the process, Wailers fans will be disappointed that the true story of the band and Nevill O' Reilly Livingstone remains shrouded in mystery.
---
BUSH TELEDOCTOR RADIO
Remember, our good friend and website contributor Alvaro Gaynicotche now broadcasts a show dedicated to Bob & the Wailers every Saturday on X FM -100.3 Montevideo,Uruguay.
X FM is broadcoast on the Internet, so you can hear it from all over the world. The Uruguay time for the show is : Saturday, 7:00 PM to 9:00PM.
People can contact Alvaro at : robertovive@portalx.com.uy
And you can hear by clicking "X FM"" on this site:
www.todoradio.com/uruguay.html
¡Roberto Vive!
---
Previous Updates:
Number 15, March 2002
Number 14, February 2002 Number 13, January 2002
2001
Number 12, December 2001 Number 11, November 2001
Number 10, October 2001 Number 9, September 2001
Number 8, August 2001 Number 7, July 2001
Number 6, June 2001 Number 5, May 2001
Number 4, April 2001 Number 3, March 2001
Number 2, February 2001 Number 1, January 2001
---
Please visit these Wailers/reggae sites:
The OFFICIAL Wailers website: www.wailers.com
www.bobmarley.freeserve.co.uk Django! Ska, Rocksteady & Reggae
http://robertnestamarley.free.fr The Wailers News
www.melodymakers.de bobmarleyshop.com
Bob Marley Magazine http://go.to/bobmarleyshows
---
Contact: jahlight@wailers.co.uk