Volume 1: Issue 3: March 2001
Welcome to the third update of wailers.co.uk. Each month we plan to bring you news and opinions of the Wailers and associated affairs, with regular contributors offering articles and reports from around the world.
CATCH A FIRE DOUBLE CD
The wait is almost over for the re-issue of the Wailers Island Records debut album Catch A Fire. The album is expected to be released in the US and Europe in the week commencing 26th of March, and will consist of 2 CD's, the first featuring the raw Jamaican recordings, and the second the album as released by Island in 1973.
The first CD also features two additional tracks. High Tide Or Low Tide was recorded in 1969, and remixed in 1972 for possible inclusion on the album. It remained locked in the vaults until it eventually debuted on the Songs Of Freedom box set in 1992. The other bonus track is All Day All Night, which until now had only been available on the Easy Skanking single from 1995, which was quickly withdrawn in the UK.
In the video documentry Classic Albums: Catch A Fire, Chris Blackwell conceeds that the raw Jamaican tracks were possibly better than the ones Island eventually put out. Now the fans will have the opportunity to decide for themselves.
The new edition comes in a reproduction of the original Zippo lighter sleeve that housed the original 1973 pressings.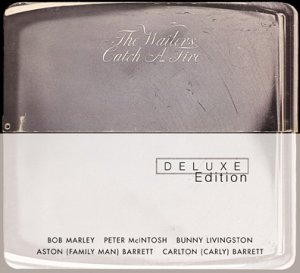 Catch A Fire will be the first release in a re-issue campaign that wil see the entire Bob Marley and the Wailers Island Records album catalogue re-launched. Further releases are expected through June and July, although it is unclear at this time what bonus material will be included.
September will see the release of a deluxe edition of Exodus, voted album of the century by Time magazine in 1999, and, to coincide with Bob's 57th birthday, an expanded double CD version of Legend is expected in February 2002.
---
AUDIOPHILE VINYL RE- PRESSINGS
If the classic vinyl format is your preference, then you would be advised to check out the forthcoming re-issues from specialists Simply Vinyl. Coming soon in their series of audiophile re-issues are Bob Marley & The Wailers Rastamna Vibration and Exodus albums, and Peter Tosh's Equal Rights set, all pressed on quality 180gm vinyl. Already available from the label are 180gm pressings of Catch A Fire, Natty Dread and Live!, priced at £16.99 each.
Record Collector magazine states that Simply Vinyl are soon to launch a sister company, S12 (Simply 12&quot), which will specialise in re-issuing classic 12" singles. According to the magazine, a Bob Marley single is amongst those due for re- press, althpugh no details of which title are given.
Keep up to date with releases and availabilty on the labels website at www.simplyvinyl.com
---
BUNNY WAILER DOCUMENTRY
Bunny Wailer has revealed that a documentry film of his life is in the making. Bunny unveiled the project to a group of school children at the Institute of Jamaica, stating that the film will also feature other artists who were involved in the Wailers story.
"Sometimes it is necessary to reminisce on those things that relate to where we've been, where we are and where we're heading. And so, I've taken time out at this time to put together a documentary of my biography", said Bunny
Responding to the question of how it felt to be a living legend, Bunny replied "I feel lonely. It really feel lonely, y'know. For the Wailers started in Trench Town in 1963 and at the time the Wailers were five members. Myself, Bob, Peter, Junior and Beverley. Then it was scaled down to four when Junior went away to live in the United States with his parents. Then it went down to three when Beverley left, and myself, Bob and Peter took the music to international heights. So Bob and then Peter expired leaving just myself, but I believe that as long as I'm working in the best interest of the music, the people and the children of the future, I'm not really lonely,"
Although no release date has yet been set, the documentry is expected to appear in the next 2 or 3 months, with the long awaited book Old Fire Sticks written by Roger Steffens still in the works.
---
ESTHER ANDERSON BIOPIC
Another film also in the pipeline is Redemption Song, based on the life of Jamaican actress Esther Anderson, and her imvolvement with the developement of Island Records.
The film, which is to be shot in Jamaica, London and Hollywood is to be directed by Kasi Lemons, and it is believed that talks are being held with Michelle Rodriguez, Matt Cedano and James Spader to play prominent roles.
According to the press release, Wailers bass player Aston "Familyman" Barrett is being lined up to work on the films music score and soundtrack.
"Being back in LA after all these years is very exciting. There's a new breed of filmmakers who know about Jamaica and our music. They're willing to take part in the film and some directors have shown interest in building sets. It is a nice feeling to know that although years have passed the door is still open to me as an artist and filmmaker", said Esther.
---
NEW DISTANT DRUMS NOW OUT
Issue 11 of the fabulous Wailers roots-zine Distant Drums has finally made it onto the shelves. Included in the essential publication are a tribute to the late Junior Braithwaite, the original Wailers member who was murdered in Jamaica in 1999, a detailed study of the Complete Wailers Part 2 CD set, and interviews with guitarist Al Anderson, Pablove Black and Ziggy Marley.
The magazine can be purchased from www.dubvendor.co.uk at the price of £3.50 plus p&p, £1 (uk), £2 (Europe), £4 (ROW). Alternately subscriptions are available direct from Distant Drums: 4 issues UK £14, ROW £20. If paying by $ (dollar) cheque, please add $5(dollars) for bank charges
Distant Drums
PO Box 191
Oxford
OX2 9FH
England
---
THE WAR ALBUM
Brand new from Culture Press/Rastafari Records is this album credited to Haile Selasie I featuring Bob Marley & The Wailers.
Recorded in Jamaica with key surviving members of the Wailers, including Earl Wya Lindo and Familyman Barrett alongside drummer Mikey Boo Richards with backing vocals from Peter Tosh and Rita Marley on two tracks, this is a labour of devotion from French reggae fanatic Bruno Blum, who also played guitar, sang backing vocals and rendered the dub version.
The vocal credit goes to H.I.M. by way of recording of His Majesty's dramatic speech in Amahric at the United Nations General Assembly in 1963. This is dubbed onto the new War rhythm track on track 2, track 1 is a recording of Bob declaring Selassie's divinity, and spliced alongside the spine-tingling Selassie Is The Chapel.
Other tracks include the Buffalo Bill version that emerged briefly on a 7" single a year or so ago, versions by Bruno Blum in English and French, a full length Selassie version, plus a seven minute sound efects dub version. Also included is a lavishly illustrated fold out insert with a full transcript of Selassie's words and their historical background, with a track by track breakdown. A must for all Wailers fans. (credit: Dub Vendor)
The album is available in the UK from Dub Vendor, on CD only, at £12.99 plus p&p.
---
WAILERS BAND IN ST. LOUIS
About 3 weeks ago I heard the Wailers were coming to St. Louis for the 1st time ever. Didn't really think too much of it. I'm a purist and in my opinion it just doesn't seem really right in a way for a group to play Bob Marley covers. Then I started to think that if any group was entitled to do it, it would be with Family Man on bass, Wya Lindo on keyboards and Al Anderson on guitar. I mean, at least they were there back in the day. It's not like some band with no roots going out and playing Bob Marley tunes.
Anyway, I had my radio show last night from 7 til 10 and played some Wailers music. I couldn't bring myself to play any with Bob Marley, but I played some tunes where the Wailers were backing musicians. "Top Control" by Israel Vibration, "Jerusalem" by Alpha Blondy, "Hail HIM" by Burning Spear and some tunes w/Family Man on bass.
Then a guy called and said he saw them 2 years before in Florida and they knocked him out. So that kind of psyched me up a bit. So at 10 o'clock I rolled to the show (it was only about 10 minutes away).
When I got there the Wailers had just taken the stage. Nice crowd getting into the groove. Family Man was tucked in the back right (like always) just laying down some wicked rhythms. Al Anderson was right up front stage left and Wya was back in the right corner. They played all Marley tunes. Early on I had mixed emotions as I'm thinking how incredible it must've been to have seen Marley back in the day with these same musicians (and of course all the other Wailers). Then I had a few brews (-: and told myself to just take it for what it is and enjoy it.
The lead singer was ok. "Nesta" Pine. Must be a tough job to sing Marley tunes. Rough-sounding voice but I found myself on the floor skankin and singing along with everyone else. Tunes that really knocked me out were Wake Up And Live and Lively Up Yourself.
There were 2 young harmony singers to the right who were good. Contrary to someone's post, Marcia Griffiths wasn't there. Also had a horn player and a few others in the background.
They played for around 2 hours and I'm glad I checked it out. I wouldn't necessarily travel to see them, but since they came in my own backyard it was cool.
After the show I saw Al Anderson behind the barricade (TONS of Security around). I motioned to him and he came over. Talked for a sec and he said to come back. So I'm outside the dressing room door and after a few minutes someone walked in there so I kinda flowed right in. Family Man's sitting right in the corner rolling a monster spliff and drinking some cabernet in a plastic cup! It was funny. I tell him what an honor it is to meet him and I end up sitting down and talking for 20 minutes! It was incredible. Only wish I was smart enough to have brought my recorder. Oh well...
He is a cool guy. Friendly and warm. Talked about everything. His days in the Hippy Boys, working with Lee Perry, moving over to the Wailers with his brother, and just his constant touring from 1969. And Bob Marley stories. It was just a magical moment.
Reporting from the Midwest
Professor Skank
RAW #994
---
Previous Updates:
Number 1, January 2001
Number 2, February 2001
---
Please visit these Wailers/reggae sites:
www.bobmarley.freeserve.co.uk Django! Ska, Rocksteady & Reggae
http://robertnestamarley.free.fr The Wailers News
---
Contact:jahlight@wailers.co.uk