Update No. 22
Volume 3: Issue 3: April 2003
WAILER'S MEMORABILIA AT CHRISTIE'S AUCTION
Auction Of Pop Memorabilia
30th April at 2PM, Christie's South Kensington, London
Enquiries: Helen Bailey
0207 752 3280
hbailey@christies.com
Lot 42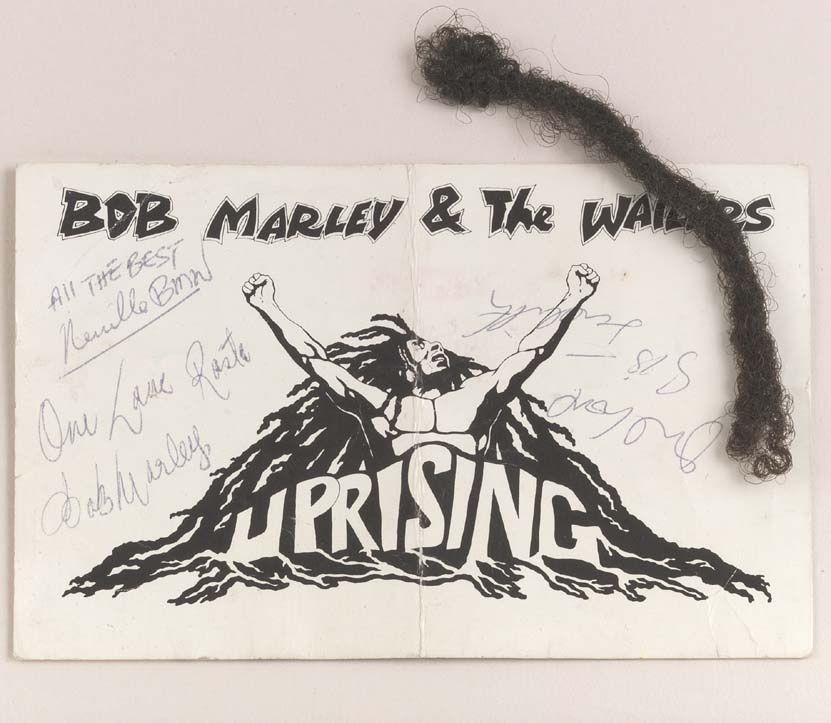 A promotional postcard Uprising, signed and inscribed "One Love Rasta Bob Marley", accompanied by a length of one of his dreadlocks given to a fan at the time the postcard was signed
estimate: £800-1200
Lot 43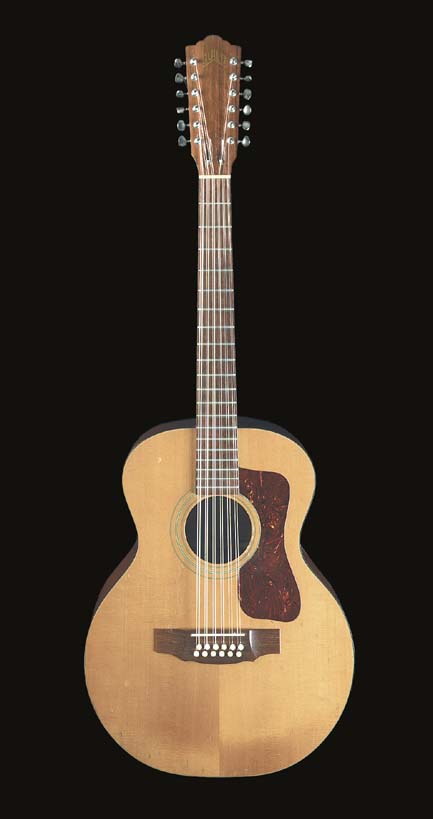 A 1972 Guild acoustic 12-string guitar owned by Junior Marvin 1974-1998, and used by Bob Marley on the tracks Is This Love and Time Will Tell on the 1978 album Kaya
Estimate: £10,000-15,000
Full details will be live on Christies.com from the beginning of April.
---
DIARY OF A REGGAEPHILE!
PRESS RELEASE
CREATIVE ARTISTSı PUBLIC RELATIONS
355 Clinton Avenue Suite 4A Brooklyn, NY 11238-1124 USA
tel/fax 718-783-6312 http://www.caceinternational.com
email:tosh-marley@earthlink.net

BOB MARLEY & PETER TOSH
GET UP! STAND UP!
Diary of a Reggaeophile
Text and Photographs by Fikisha Cumbo

A new coffee table book with the Foreword by Roberta Flack is now available. This is the definitive book on Bob and Peter who together wrote the reggae anthem

"Get Up, Stand Up."
The book showcases the years between 1975 and 1983 when reggae, Bob Marley and Peter Tosh became international super stars. They come alive in photographs, uncensored interviews, on the road, in their homes, in performances and rehearsals.

Vividly relive the rich experience of the free flowing lifestyle of the era.

"You take some different kind'a photo."
Bob Marley (Island House, Jamaica, 1975)

"Bob Marley and Peter Tosh are classic examples of artists who were visionaries and revolutionists. Now, finally the enlightening story told by Fikisha Cumbo. Enjoy!"
Bobbi Humphrey, Flautist

"Bob Marley and Peter Tosh had a beautiful friendship whose power may have only been topped by the music they made which was truly revolutionary. There are many things that only someone close to the culture can know about and write about."
David Henderson, author of the Jimi Hendrix biography
Scuse Me While I Kiss The Sky

GET UP! STAND UP!
336 pages
Over 240 new photographs
16 pages of color photos.
The only book on Marley & Tosh

For additional information about the book and author:
Web site: http://www.atlasbooks.com/marktplc/0085.htm

Web site: http://www.caceinternational.com
E-mail: tosh-marley@earthlink.net
Phone: 718-783-6312

Order GET UP! STAND UP!
Telephone: 718-783-6312
Fax: 419-281-6883
E-mail: order@bookmasters.com
Internet: http://www.atlasbooks.com/marktplc/00854.htm
(includes the 800 number for orders)

$24.95 USA

TO ARRANGE AN INTERVIEW WITH THE AUTHOR:
Telephone/fax: 718-783-6312
E-mail : fikisha@earthlink.net
---
MARLEY SON WINS ROMEO & JULIET ROLE
One of Bob Marley's sons is to star in a British-made movie which pitches Romeo And Juliet in modern day Jamaica, reports the BBC's ceefax service.
Ky-Mani Marley, 27, will play the hero in One Love - named after one of the music legends hits.
The film is being made by Don Letts, formely of pop band Big Audio Dynamite.
It has received a donation of nearly £ 1m from the UK Film Coucil's New Cinema Fund. The fund also helped the Magdalene Sisters and Bloody Sunday.
---
OFFICIAL MARLEY SHIRTS IN THE UK
A range of official Bob Marley merchandise is now available in the UK from Rock Off. The mail order company also offer a wide range of official products from the worlds leading artists.
Call or write for a free catalogue or visit the website: www.rockoff.co.uk
Mail order hotline: 0151 227 1963
write to: From Me To You Enterprises,
6 Cavern Walks,
Mathew Street,
Liverpool L2 6RE
---
PETER TOSH MUSEUM UPDATE
Buy a brick for the Peter Tosh Museum with a minimum $25 donation and your name will be listed as a contributor in the museum and you could win

A Martin Acoustic Guitar
  One of several Peter Tosh Box Sets
  Peter Tosh CD's
  Peter Tosh Museum T-Shirts
  Martin Guitar T-Shirts
  VIP passes to the
Peter Tosh Int'l Music Festival
Or one of Several other prizes

Plus, you'll receive a certificate suitable for framing declaring you an "Honorary Member" of the Peter Tosh Foundation

BUY YOUR BRICK NOW VIA PAYPAL
Click here: PayPal - Payment Details

Or send, a check or money order for $25 payable to:
Peter Tosh Tribute Album, Inc.
3376 Preakness Court
Marietta, GA 30062

For further information Visit:
www.ptosh.com a direct link to donate may be found here.

THE PETER TOSH TRIBUTE ALBUM, MUSEUM, AND AFFILIATED PROJECTS ARE NOT - FOR - PROFIT

Dear Colleague,
The Peter Tosh Tribute Album is being done to fund the construction of a medical clinic, a library, and the Peter Tosh Museum in Jamaica. Proceeds from this album will also be the primary source of funding for our "Instruments for the Youth" program, which working in the cooperation of companies like Martin Guitars and Ernie Ball Strings, and Mid East Mfg. provides musical instruments to needy children.

Additionally, a massive three day International Music Festival is planned to coincide with the grand opening of the Peter Tosh Museum. I cannot express the importance of completing this album and the impact it will have on so many lives. The current state of Jamaica's economy can be reflected by the recent massive layoff by Air Jamaica, and other major Jamaican corporations. This project will help secure the future of Jamaican's tourism, with the Peter Tosh Museum and Annual International Music Festival. The first of these events will prove to be the largest in Jamaica's history.

However, I urge you to help us with the support to raise the funds to complete this tribute album, which features Eric Clapton, Slash (Guns N Roses), Sean Paul, Aswad, the late Jerry Garcia, Luciano, Ben Harper, Lucky Dube, Dean Fraser, Jeffrey Gaines, Edi Fitzroy, Frankie Paul, Andrew Tosh, Martha Davis/The Motels, Bob Andy, Bad Brains, Speech, Lasana Bandele, Tippie Irie, and Maxi Priest.

Being directly involved in this business you can help us raise funds towards our goal of $150K. Since we set up our website www.ptosh.com to accept donations by Paypal, over a month ago, we have had a total of zero donations. If you are a DJ or Webmaster please encourage people to donate through our website. We are still looking for an investor(s) as well as sponsors.

This is a great project which will benefit many people, but the only way it is going to happen is with the cooperation, help, and support of everyone and all of us play a part in making this album. The state of the current economy and the situation with the war, has led us to being unsuccessful so far in securing any kind of monetary support. We have had lots of donations of signed photos & CD's, and even a couple guitars. But, realistically this does not even represent a great deal of the amount we need to secure.

We continue everyday to seek sponsors and investors, as well as, record labels and distributors. But it appears that this may just be our entire project, and we may have to produce this album without any corporate monetary support. The economy is really bad right now, and it is why this project will prove so beneficial to all, and a long overdue tribute to brother, Peter Tosh. Plus, what more better a time than now? To spread Peter's important message all over the world in this time of uncertainty and war.

Please encourage donations, sponsors, and investors whenever possible.

We are encouraging you to do fundraisers of any type, and benefit concerts. Anything you could do would be most appreciated. Five and ten dollar pledges add up. Especially since we have not received a donation to date. Please help us make this project reality.
Best regards,

Michael Malott, Producer
Peter Tosh Tribute Album
3376 Preakness Court
Marietta, GA 30062
Phone (404) 405-6196
Fax (770) 971-6738
goldalbums@aol.com
---
Previous Updates:
Number 21, March 2003 Number 20, February 2003
See side links for full on-line www.wailers.co.uk archive.
---
Please visit these Wailers/reggae sites:
The OFFICIAL Wailers website: www.wailers.com
www.bobmarley.freeserve.co.uk Django! Ska, Rocksteady & Reggae
http://robertnestamarley.free.fr http://intelligentdiplomat.free.fr
www.melodymakers.de bobmarleyshop.com
www.caceinternational.com The Wailers News
Bob Marley Magazine http://go.to/bobmarleyshows
---
Contact: jahlight@wailers.co.uk