WAILERS ALBUMS
WAILING WAILERS
Studio One Records S1001/FCD 8081
Produced by Clement Dodd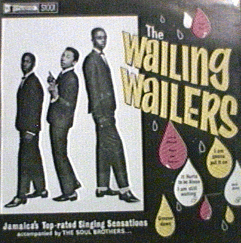 Put It On
I Need You
Lonsome Feeling
What's New Pussycat
One Love
When The Well Runs Dry
Ten Commandments Of Love
Rude Boy
It Hurts To Be Alone
Love And Affection
I'm Still Waiting
Simmer Down
Note: Later pressings replace When The Well Runs Dry with Ska Jerk. Issued on CD with Guajira Ska and various non-Studio 1 recordings as bonuses.
---
BEST OF THE WAILERS
Beverleys BLP 0001
Released 1970
Produced by Leslie Kong

Soul Shakedown Party
Stop That Train
Caution
Soul Captives
Go Tell It On The Mountain
Can't You See
Soon Come
Cheer Up
Back Out
Do It Twice
---
SOUL REBELS
Trojan Records TBL 126
Released December 1970
Produced by Lee Perry
Soul Rebel
Try Me
It's Alright
No Sympathy
My Cup
Soul Almighty
Rebel's Hop
Corner Stone
400 Years
No Water
Reaction
My Sympathy
---
AFRICAN HERBSMAN
Trojan Records TRL 62
Released 1973
Produced by Lee Perry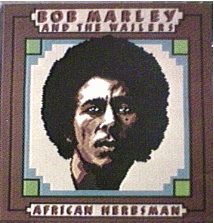 Lively Up Yourself
Small Axe
Duppy Conqueror
Trenchtown Rock
African Herbsman
Keep On Moving
Fussing And Fighting
Stand Alone
All In One
Don't Rock My Boat
Put It On
Sun Is Shining
Kaya
Riding High
Brain Washing
400 Years
---
CATCH A FIRE
Island Records ILPS 9241
Released April 1973
Produced by Bob Marley and Chris Blackwell
Concrete Jungle
Slave Driver
400 Years
Stop That Train
Baby We've Got A Date (Rock It Baby)
Stir It Up
Kinky Reggae
No More Trouble
Midnight Ravers
---
BURNIN'
Island Records ILPS 9256
Released November 1973
Produced by Chris Blackwell and the Wailers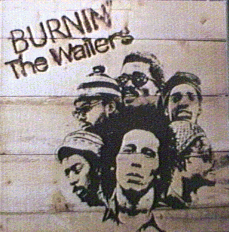 Get Up Stand Up
Hallelujah Time
I Shot The Sheriff
Burnin' And Lootin'
Put It On
Small Axe
Pass It On
Duppy Conqueror
One Foundation
Rastaman Chant
---
BEST OF BOB MARLEY AND THE WAILERS
Coxsone Records GW 002
Released 1974
Produced by Clement Dodd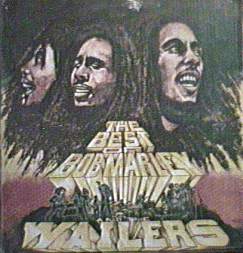 I Am Going Home
Bend Down Low
Mr.Talktive
Rudie
Cry To Me
Wings Of A Dove
Small Axe
Love Won't Be Mine
Dancing Shoes
Sunday Morning
He Who Feels It Knows It
Straight And Narrow Way
Note: Small Axe is actually More Axe, produced by Lee Perry. Re-issued with alternate mix and sleeve.
---
BEST OF BOB MARLEY AND THE WAILERS
Buddah Records SO1106
Released 1976
Produced by Clement Dodd
Destiny
Ruddie Boy
Cry To Me
Love Won't Be Mine
Play Boy
Sunday Morning
Put It On
I Need You
What's New Pussycat
Where Is My Mother
Wages Of Love
Jailhouse
Note: Ruddie Boy is the same as Jailhouse, same track twice!
---
MARLEY TOSH LIVINGSTONE & ASSOCIATES
Studio One Records FCD 4041
Released 1981
Produced by Clement Dodd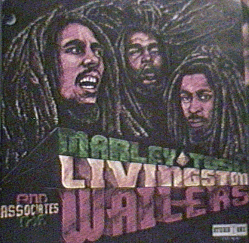 Another Dance
Lonsome Track
Rolling Stone
Can't You See
Let Him Go
Dance With Me
Maga Dog
I Want Somewhere
Hoot Nanny Hoot
Dreamland
---
IN THE BEGINNING
Trojan Records TRLS 221
Released January 1984
Soul Shakedown Party
Adam And Eve
Brand New Second Hand
Cheer Up
This Train
Jah Is Mighty
Caution
Thank You Lord
Keep On Skanking
Wisdom
Stop The Train
Mr. Chatterbox
Turn Me Loose
---
NEVER ENDING WAILERS
RAS records/Tuff Gong Records RASCD 3501
Released 1993
Produced by Bunny Wailer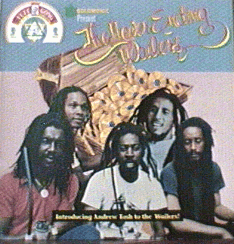 I'm Still Wailing
Dutch Pot
Hammer
Rescue Me
Hurts To Be Alone
Together Again
Music Lesson
Nice Time
How Many Times
Coolie Plum Tree
Note: Mainly JAD recordings overdubbed in the mid-'80s.
---
Heartbeat Records compilations:
ONE LOVE AT STUDIO ONE
Heartbeat Records HB 111/112
Released 1991
Produced by Clement Dodd
This Train
Simmer Down
I Am Going Home
Do You Remember
Mr. Talkative
Habits
Amen
Go Jimmy Go
Teenager In Love
I Need You
It Hurts To Be Alone
True Confession
Lonsome Feeling
There She Goes
Diamond Baby
Playboy
Where's The Girl For Me
Hooligan
One Love
Love And Affection
And I Love Her
Rude Boy
I'm Still Waiting
Ska Jerk
Somewhere To Lay My Head
Wages Of Love Rehearsal
Wages Of Love
I'm Gonna Put It On
Cry To Me
Jailhouse
Sinner Man
Who Feels It Knows It
Let Him Go
When The Well Runs Dry
Can't You See
What Am I Supposed To Do
Rolling Stone
Bend Down Low
Freedom Time
Rocking Steady
Also available as 2 seperate albums, Simmer Down At Studio One and Wailing Wailers At Studio One
---
DESTINY
Heartbeat Records HB 191
Released 1999
Produced by Clement Dodd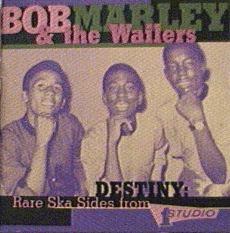 Destiny
Wages Of Love
Do You Feel The Same Way Too
Your Love
Don't Ever Leave Me (take 1)
Don't Ever Leave Me (take 2)
I Need You So
Rock Sweet Rock
Another Dance
I Stand Predominant
Where Is My Mother (acoustic version)
Where Is My Mother (band take)
Dance With Me
What's New Pussycat
Treat Me Good
Jerking Time
Do It Right
Let The Lord Be Seen In You
White Christmas
---
WAILERS AND FRIENDS
Heartbeat Records HB 201
Released 1999
Produced by Clement Dodd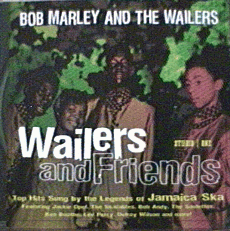 I've Got To Go Back Home (Bob Andy and the Wailers)
Jerk All Night (Delroy Wilson and the Wailers)
That Ain't Right (Rita Marley & the Soulettes with the Wailers)
The Train Is Coming (Ken Boothe and the Wailers)
Oh My Darling (Bob Marley and Marcia Griffiths)
One More Chance (Rita Marley & the Soulettes with the Wailers)
Tell Them Lord (Bob Marley and the Wailers)
Where's Sammy Gone (Lord Bryner and the Wailers)
Ice Water (Jack Sparrow and the Wailers)
Friends and Lovers (Rita Marley & the Souletttes with the Wailers)
Rude Boy (Bob Marley and the Wailers)
Pussy Galore (Lee Perry and the Wailers)
Bless You (Bunny Livingston and Rita Marley)
A Time To Cry (Jackie Opel and the Wailers)
A Deh Pon Dem (Rita Marley & The Soulettes with the Wailers)
I Want Justice (Delroy Wilson and the Wailers)
The Mill Man (Jackie Opel and the Wailers)
Don't Cry Over Me (Joanne Dennis and the Wailers)
Note: Features the Wailers harmonising other artists at Studio One
---
CLIMB THE LADDER
Heartbeat Records 11661-7751-2
Released 2000
Produced by Clement Dodd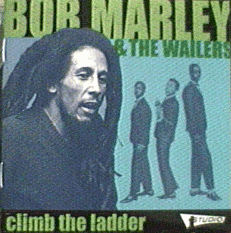 Dancing Shoes
Put It On
Lonsome Track
Climb The Ladder
Love Won't Be Mine This Way
Dreamland
Lemon Tree
Nobody Knows
Wings Of A Dove
Sinner Man
Ten Commandments Of Love
Sunday Morning
I Made A Mistake
I Don't Need Your Love
Donna
The Jerk
Just In Time
---
COMPLETE WAILERS ALBUMS
VOLUME 1
JAD Records
Released 1997
Rock To The Rock
Rocking Steady (alternate)
How Many Times
Touch Me
Mellow Mood (alternate)
There She Goes
Soul Rebel (original)
Put It On (alternate)
Chances Are (alternate)
Love
Bend Down Low (alternate)
The World Is Changing
Nice Time (alternate)
Treat You Right
What Goes Around Comes Around
What Goes Around Comes Around (version)
Don't Rock My Boat (original)
The Lord Will Make A Way
Chances Are (Original)
Selassie Is The Chapel
Tread Oh
Feel Alright
Rhythm
Rocking Steady (original)
Adam And Eve
Wisdom
This Train (alternate)
Thank You Lord (alternate)
Give Me A Ticket (original)
Trouble On The Road Again
Black Progress
Black Progress (version)
Tread Oh (version)
Sugar Sugar
Stop The Train
Cheer Up
Soon Come
Soul Captives
Go Tell It On The Mountain
Can't You See
Give Me A Ticket (alternate)
Hold On To This Feeling
Mr Chatterbox (alternate)
Soul Shake Down (version)
Soon Come (version)
Mr. Chatterbox (version)
Hold On To This Feeling (version)
---
VOLUME 2
JAD Records JAD D 1004
Released 1998
Produced by Lee Perry

Try Me
It's Alright
No Sympathy
My Cup
Soul Almighty
Rebel's Hop
Corner Stone
Four Hundred Years
No Water
Reaction
My Sympathy
Soul Rebel (version)
Try Me (version)
It's Alright (version)
No Sympathy (version)
My Cup (version)
Soul Almighty (version)
Rebel's Hop (version)
Corner Stone (version)
No Water (version)
Reaction (version)
Rebel Version

Keep On Moving
Put It On
Fussing And Fighting
Memphis
Riding High
Kaya
African Herbsman
Stand Alone
Brain Washing
Keep On Moving (version)
Don't Rock My Boat (version)
Fussing And Fighting (version)
Put It On (version)
Duppy Version
Memphis (version)
Ridimg High (version)
Kaya (version 1)
African Herbsman (version)
Stand Alone (version)
Sun Is Shining (version)
Brain Washing (version)

Kaya
Love Light
Second Hand
Jah Is Mighty
Run For Cover
Man To Man
Downpressor
Don't Rock My Boat (alternate 2)
More Axe
Long Long Winter
All In One
Turn Me Loose
Kaya (version 2 - scat mix)
Battle Axe (version)
Lomg Long Winter (version)
Second Hand (version)
Downpressor (version)
Shocks Of Mighty
Axe Man
Nicoteen
---
VOLUME THREE
JAD Records JAD CD 1005
Released 1999
Produced by Lee Perry, Johnny Nash and The Wailers
All In One (alternate)
All In One (part II)
Keep On Skanking
Dreamland
Love Light
Brand New Secondhand (alternate)
Shocks Of Mighty (alternate)
Keep On Moving (extended version)
Concrete Jungle (original)
Screw Face
Satisfy My Soul Babe
Send Me That Love
Comma Comma
Jungle Dub
Dracula
Love Light (version)
Dreamland (version)
Face Man
Satisfy My Soul Babe (version)
Screwface
Redder Than Red
Lively Up Yourself
Trouble Dub
Dub Feeling
Satisfy My Soul Jah Jah
Kingston 12 Shuffle (with U Roy)
Pour Down Sunshine
Gonna Get You
Cry To Me (acoustic)
Reggae On Broadway
I'm Hurting Inside
Oh Lord I Got To Get There
Dance Do The Reggae
Stay With Me
Guava Jelly (alternate)
Guava (version)
Red
Live
Samba
Screwface (version)
Grooving Kingston 12
Choke
Satisfy My Soul Jah Jah (version)
---
Contact: jahlight@wailers.co.uk