PETER TOSH ALBUMS
LEGALIZE IT
Virgin Records V2061
Released August 1976
Produced by Peter Tosh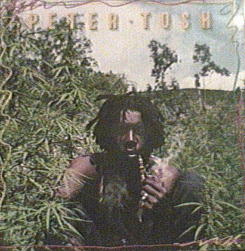 Legalize It
Burial
Watcha Gonna Do
No Sympathy
Why Must I Cry
Igziabeher (Let Jah Be Praised)
Ketchy Shuby
Til Your Well Runs Dry
Brand New Second Hand
Re-Issued in 1999 with bonus track: Ketchy Shuby (version)
---
EQUAL RIGHTS
Virgin Records V2081
Released April 1977
Produced by Peter Tosh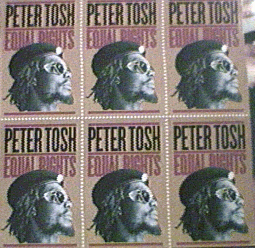 Get Up Stand Up
Downpressor Man
I Am That I Am
Stepping Razor
Equal Rights
African
Jah Guide
Apartheid
Re-Issued in 1999 with bonus tracks:
African (live)
Pick Myself Up (live)
---
BUSH DOCTOR
Rolling Stones Records CUN 39109
Released November 1978
Produced by Peter Tosh & Robbie Shakespear
(You Gotta Walk) Don't Look Back
Pick Myself Up
I'm The Toughest
Soon Come
Moses The Prophet
Bush Doctor
Stand Firm
Dem Ha Fe Get A Beatin'
Creation
Re-Issued in 2002 with bonus tracks:
Lesson In My Life
Soon Come (long version)
I'm The Toughest (long version)
Bush Doctor (long version)
Don't Look Back (version)
Tough Rock Soft Stone
---
MYSTIC MAN
Rolling Stones Records CUN 39110
Released August 1979
Produced by Peter Tosh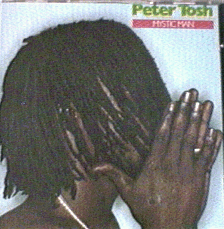 Mystic Man
Recruiting Soldiers
Can't You See
Jah Seh No
Fight On
Buk-In-Hamm Palace
The Day The Dollar Died
Crystal Ball
Rumour Of War
Re-Issued in 2002 with bonus tracks:
Buck In Hamm Palace (12" version)
Mystic Man (long version)
Fight On (instrumental)
Recruiting Soldiers (version)
Dubbing In Buck In Hamm Palace
---
WANTED DREAD & ALIVE
Rolling Stones Records CUN 39113
Released June 1981
Produced by Peter Tosh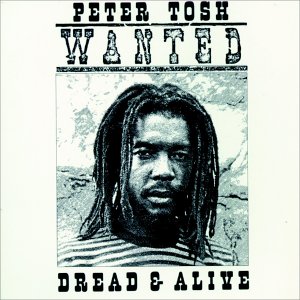 Coming In Hot
Nothing But Love
Reggaemylitis
Rock With Me
Oh Bumbo Klaat
Wanted Dread And Alive
Rastafari Is
Guide Me From My Friends
Fools Die
Note: US issue replaces Rock With Me & Guide Me From My Friends with The Poor Man Feel It & That's What They Will Do respectively
Re-Issued in 2002 with bonus tracks:
Poor Man Feel It
Cold Blood
That's What They Will Do
Rok With Me (long version)
Nothing But Love (long version)
---
MAMA AFRICA
EMI/Radic Records RDC 2005
Released April 1983
Produced by Peter Tosh & Chris Kimsey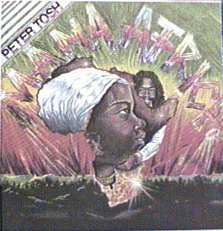 Mama Africa
Glasshouse
Not Gonna Give It Up
Stop That Train
Johnny B. Goode
Where You Gonna Run
Peace Treaty
Feel No Way
Maga Dog
Re-Issued in 2002 with bonus tracks:
Johnny B. Goode (long version)
Where You Gonna Run (long version)
---
CAPTURED LIVE
EMI Records EG 2401671
Released 1984
Produced by Michael C. Collins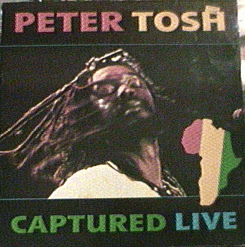 Coming In Hot
Bush Doctor
Africa
Get Up Stand Up
Johnny B. Goode
Equal Rights
Downpressor Man
Rastafari Is
Note: Recorded live at the Greek Theatre, Los Angeles.
Re-Issued in 2002 on double CD with the following track listing
Intro: Creation/Buk-In-Hamm Palace
Pick Myself Up
African
Coming In Hot
Not Gonna Give It Up
Rastafari Is
Where You Gonna Run
Dont Look Back
Glass House
Equal Rights/Downpressor Man
Peter's Rap
Bush Doctor
Johnny B. Goode
Get Up Stand Up
Mama Africa
---
NO NUCLEAR WAR
EMI-America Records ELT 46700
Released 1987
Produced by Peter Tosh
No Nuclear War
Nah Goa Jail
Fight Apartheid
Vampire
In My Song
Lesson In My Life
Testify
Come Together
Re-Issued in 2002 with bonus tracks
No Nuclear War (single mix)
---
THE TOUGHEST 78-87
Parlophone
Released 1988
Produced by Peter Tosh
Coming In Hot
Don't Look Back
Pick Myself Up
Crystal Ball
Mystic Man
Reggaemylitis
Bush Doctor
Maga Dog
Johnny B. Goode
Equal Rights-Downpressor Man
In My Song
---
THE TOUGHEST
Heartbeat Records HB 150
Released 1996
Produced by Clement Dodd and Lee Perry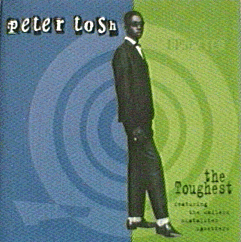 Hoot Nanny Hoot
Maga Dog
Amen
Jumbie Jamboree
Shame And Scandal
Sinner Man
Rasta Shook Them Up
The Toughest
Don't Look Back
When The Well Runs Dry
Making Love
Can't You See
Treat Me Good
Rightful Ruler
400 Years
No Sympathy
Secondhand
Secondhand (Ver.2)
Downpressor
Note: Compilation of solo and Wailers tracks, 1964-1970
---
THE GOLD COLLECTION
EMI Records CDGOLD 1007
Johnny B. Goode
Bush Doctor
Don't Look Back
No Nuclear War
Come Together
Na Goa Jail
Coming In Hot
Pick Myself Up
In My Song
Reggaemylitis
Equal Rights-Downpressor Man
Crystal Ball
Vampire
Lesson In My Life
Testify
Maga Dog
Note: Re-released as The Best Of Peter Tosh (Disky DC867392), 1996
---
DREAD DON'T DIE: the best of Peter Tosh
Capitol Records
Released 12 November 1996
Coming In Hot
Wanted Dread & Alive
That's What They Will Do
Reggae-Mylitis
Fools Die
Where You Gonna Run
Glass House
Johnny B. Goode
Get Up Stand Up (live)
Don't Look Back
Crystal Ball
---
HONORARY CITIZEN
Columbia/Legacy C3K 65064
Released 1997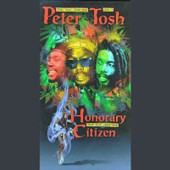 Pound Get A Blow
Fire Fire
You Can't Fool Me Again
Rightful Ruler
Black Dignity
Here Comes The Sun
Here Comes The Judge
Leave My Business
Arise Blackman
Once Bitten
Dog Teeth
Lion
Can't Blame The Youth
No Mercy
Mark Of The Beast
No Sympathy
Legalize It Version
Dracula (Vampire Version)
Bumbo Klaat
Rastafari Is
Coming In Hot
Mystic Man
Glass House
Not Gonna Give It Up
Johnny B. Goode
Rock With Me
Get Up Stand Up
Get Up Stand Up (acoustic)
African
Igziabeher
Ketch Shuby
Downpressor Man
Stepping Razor
Equal Rights
I'm The Toughest
Bush Doctor
Creation
(You Gotta Walk and) Don't Look Back
Reggaemylitis
Fools Die
No Nuclear War
Honorary Citizen
Note: Originally issued in book format. Re-Issued in Jewel case.
---
SCROLLS OF THE PROPHET
Sony
Released 6 July 1999
Get Up Stand Up
Stepping Razor
Downpressor
Equal Rights
Don't Look Back
African
Legalize It
Bush Doctor
Igziabeher (Let Jah Be Praised)
Fools Die
Mystery Babylon (Babylon Queendom)
Ketch Shuby
Till Your Well Runs Dry
One Love
Get Up Stand Up (acoustic)
Note: One Love is the Wailers Studio One version (?)
---
ARISE BLACKMAN
Trojan Records
Released 16 May 2000
Brand New Second Hand
Maga Dog
Skanky Dog
Boney Dog
Maingy Dog
Fat Dog
The Crimson Pirate
Rightful Ruler
400 Years
Moon Dust
Ambitious Beggar
Memphis
Rudies Medley
The Return Of Al Capone
Them A Fe Get A Beaten
Rueben
Stop That Train
Sun Valley
Nobody's Business
Selassie Serenade
Downpressor
Pepper Seed
Arise Blackman
Romper Room
Brand New Second Hand
Note: Compilation of late '60s/early '70s tracks inc. instrumental & DJ versions.
---
LIVE AT THE ONE LOVE PEACE CONCERT
JAD Records JAD CD 1009
Released 2000
Produced by Pauline Morris and Roger Steffens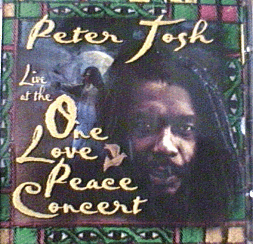 Igziabeher
400 Years
Stepping Razor
Intro Rap
Burial/Speech
Equal Rights
Speech
Legalize It/Get Up Stand Up
---
SUPERHITS
Columbia Records
Released 2000
Legalize It
Downpressor Man
Stepping Razor
Equal Rights
Watcha Gonna Do
Get Up Stand Up
Why Must I Cry
African
Brand New Second Hand
Burial
---
LIVE AND DANGEROUS: BOSTON 1976
Columbia Legacy 502489 2
Released 2001
Produced for release by Jerry Rappaport
Instrumental Intro
Igziabeher (Let Jah Be Praised)
400 Years
No Sympathy
Burial
Mark Of The Beast
Babylon Queendom
Why Must I Cry
Watcha Gonna Do
Steppin' Razor
Ketchy Shuby
Note: Recorded live at Sanders Theatre, Cambridge, Ma. 26th November 1976.
---
I AM THAT I AM
JAD Records
Released 14 August 2001
Features interviews interspersed with the following acoustic songs:
I Am That I Am
Fire Fire
Pick Myself Up
Can't You See (instrumental)
Stop That Train
Fools Die
Jah Guide
Can't You See
Handsome Johnny
Instrumental
Don't Wanna Get Busted
Legalize It
Get Up Stand Up
---
LIVE AT THE JAMAICAN WORLD MUSIC FESTIVAL
JAD Records
Released 22 January 2002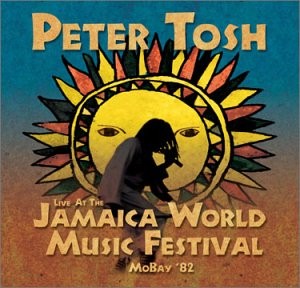 Intro/Stepping Razor
Speech
African
Comng In Hot
Not Gonna Give It Up
Don't Look Back
Rastafari Is
I'm The Toughest
Bush Doctor
Speech
Get Up Stand Up
Note: Recorded in Montego Bay 27th November 1982.
---
Contact: jahlight@wailers.co.uk